How to Read Dashboard Lights
Toyota vehicles are designed to perform well on the roads of Harrisburg, Mechanicsburg, and Carlisle for many years. However, at some point, you may find a system malfunctioning, which will be displayed on the dash as a warning light. However, you may also see an indicator light, which simply shows that everything is operating as normal.
Seeing as these lights represent widely different things, it's important to know the differences. To help, Faulkner Toyota Harrisburg has created this guide on how to read dashboard lights! Read through the information below, then contact us if your Toyota needs any type of service.
Differences Between Dashboard Warning & Indicator Lights
A light that appears on your vehicle's dashboard will either be a warning or indicator light.
A warning light often appears on the dashboard in red, orange, or yellow. These lights indicate an issue with some part of your Toyota, and it should be addressed right away. Indicator lights, on the other hand, often appear in green or blue, and these lights show that a system is working as it should.
Since there are several different warning and indicator lights, we'll go over the most common ones below!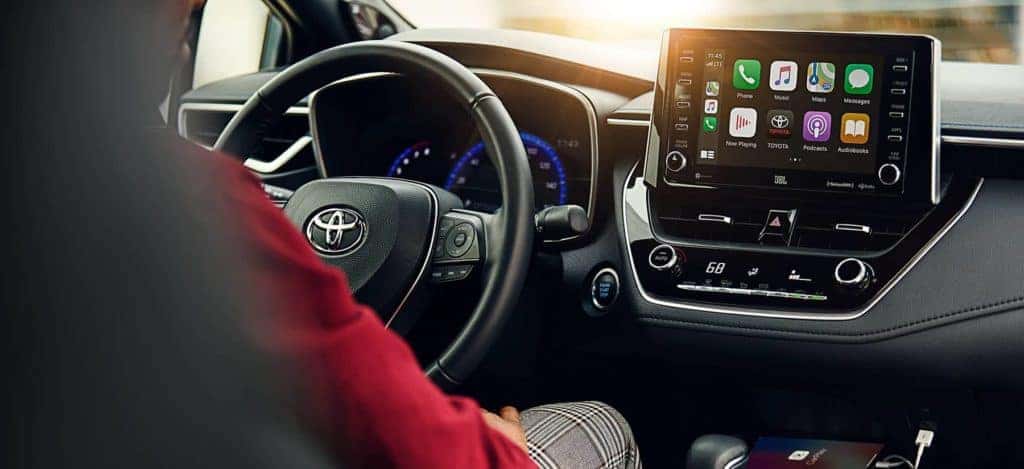 Common Dashboard Warning Lights
Some warning lights that may appear on your Toyota's dashboard are:
ABS Warning Light: If you see the letters ABS light up, there's either an issue with the Anti-lock Braking System or the sensor needs to be replaced.
Low Engine Oil Pressure Warning Light: When you see an icon that looks like an oil can, your engine oil pressure has gotten too low.
Low Fuel Level Warning Light: A picture of a fuel pump means that your Toyota is running low on gas. Be sure to fill up as soon as possible to avoid running out completely.
Tire Pressure Warning Light: This warning light looks like an exclamation point inside an open circle with a jagged bottom, and it'll appear on the dashboard if one or more tires is low on air. Get them filled up as soon as you can, and the light should turn off.
Electric Power Steering Warning Light: If you see a steering wheel with an exclamation point beside it, there's a malfunction in the electric power steering system.
Typical Dashboard Indicator Lights
Here are some indicator lights that may appear on the dashboard of your Toyota:
Turn Signal Indicator: This light looks like two arrows pointing away from each other. Whenever you signal left or right, the appropriate arrow will start blinking.
Headlight Indicator: What looks like the top of a shining lightbulb indicates that your headlights have been turned on.
High-Beam Headlight Indicator: This dashboard light looks like a capital D with five horizontal lines to the left of it. You should only see it when the high beams have been turned on.
Slip Indicator: The slip indicator light is shown as a car with two wavy lines behind it. If the wheels on your Toyota are slipping, this light will appear to indicate that the Vehicle Stability Control/Traction Control systems are operating.
Schedule Service for Your Toyota Today
Now that you know some of the possible warning and indicator lights you'll see, you can be on the lookout for any that might appear on your dash. If you notice any Toyota dashboard lights when driving around Harrisburg, Mechanicsburg, or Carlisle, schedule service at Faulkner Toyota Harrisburg today!